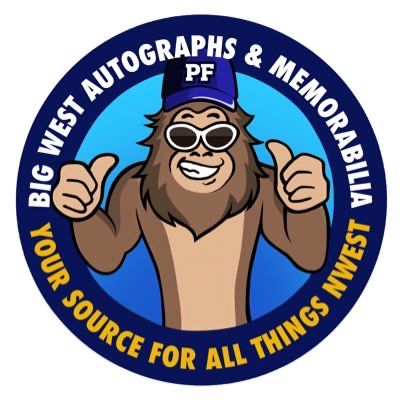 We are constantly looking for ways to grow & expand our business to bring people from all over a unique & special experience.  Early in 2020, we decided to create a division of Pure Focus Sports where fans & collectors would have the opportunity to buy authentic autographs & experiences without having to worry about buying a fake autograph on the internet.  Through this, Big West Sports Autographs & Memorabilia was born.
We strive to be your leading source of all things Northwest sports related.  Whether it's your favorite Portland Trailblazer or college star from the Ducks, Beavers, or Gonzaga, Big West Autographs is your go to source.
When you participate in a Big West  private signing, you can expect: 
Prompt & thorough communication
Pride in getting your items autographed the way YOU want them
Items that are carefully packed & promptly shipped back with care
Some of the "nuts & bolts" for our signings:
To secure a signature, please send an email to ryan@pfsports.net
Once confirmed, an invoice will be sent via PayPal or Venmo
For all of our signings we will have the following on hand: Black Sharpie, Blue Sharpie, Gold Sharpie, Silver Sharpie, & Ball Point Pen.
 Any special "ink" requests should be discussed ahead of time.  When in doubt, please send the desired marker along with your item.  We will do our absolute best to return your marker to you.
Please dummy proof your items by clearly labeling where & what you would like signed.  If an issue arises during a signing, we will do our best to communicate with you & find a way to get you the best autograph possible.
Full shipping, whether in payment or in SASE should accompany all items.  Items will not be returned until shipping has been paid in full.
Want to skip the hassle of sending in your own items? 
Take advantage of our in house product offerings.  Check out the information & deals listed on each individual signing for unique offerings & exclusive Big West Autograph items.  All of our in house items include: autograph, one complimentary inscription, certification when applicable, & return shipping.
Where do we send our items?
Unless instructed otherwise, please send all items to:
Pure Focus Sports
Attn:  Name of Signing
34122 Quail Lane
Scappoose, OR 97056